This week for Politico a fascinating story about Mike Huckabee and the nexus of religion and media. Looking for God in all the wrong places.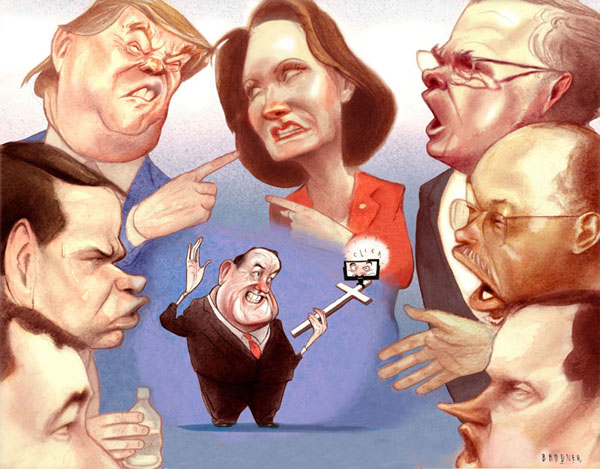 For the LA Times, my piece on how the GOP finally takes Trump down included this shot discovered from Trump's wedding: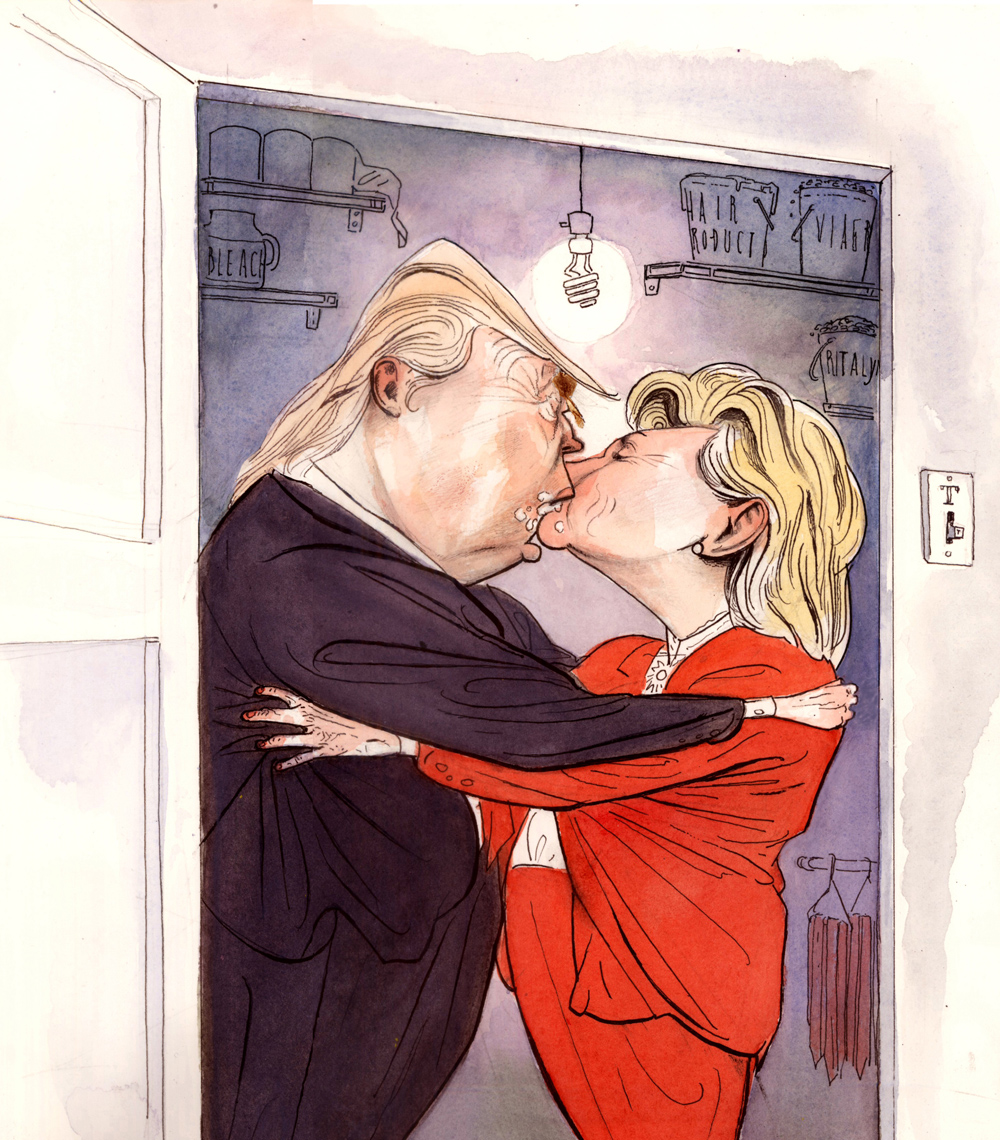 This portrait of Trump, for Time magazine (almost a cover), was a distillation of many sketches and taking a real journey with an art director. Thanks, DW Pine for taking this baby for a spin.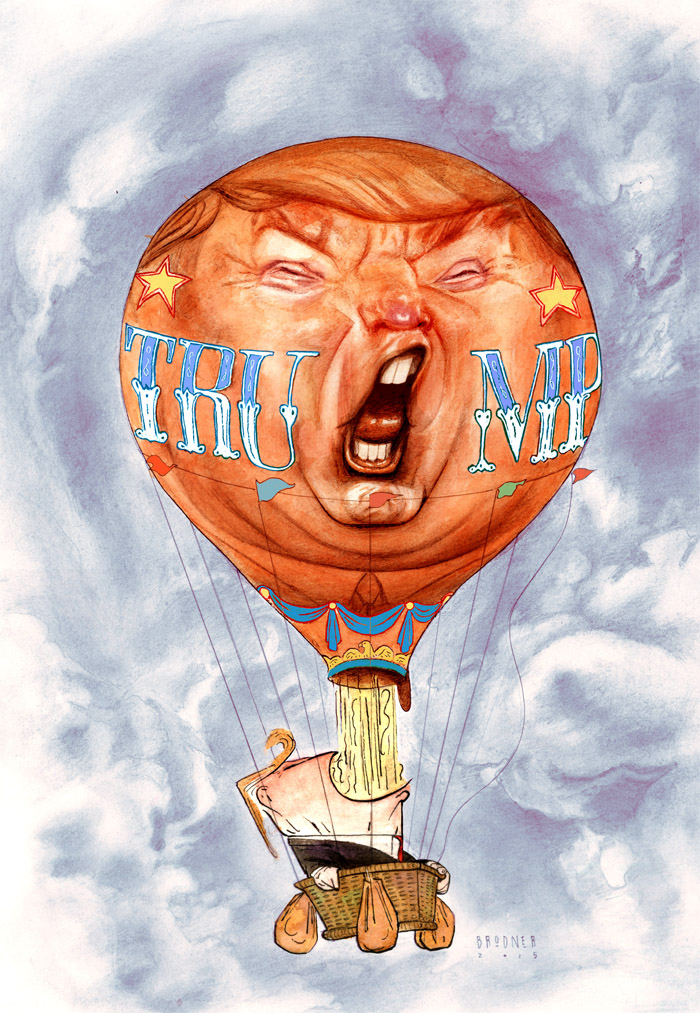 For our Dumbest Quotes of the Month, of course, guess who? Here's the Dumpster himself unloading on poor Charles Krauthammer, who did NOT have it coming.

Latest from the hot summer griddle:  Scott Walker for The Nation. Cover and opener. Yes, I know, unfair to Nixon!  Thanks to Robert Best AD, Roane Carey Ed and Katrina vanden Heuvel, EIC. Here's the excellent story by John Nichols.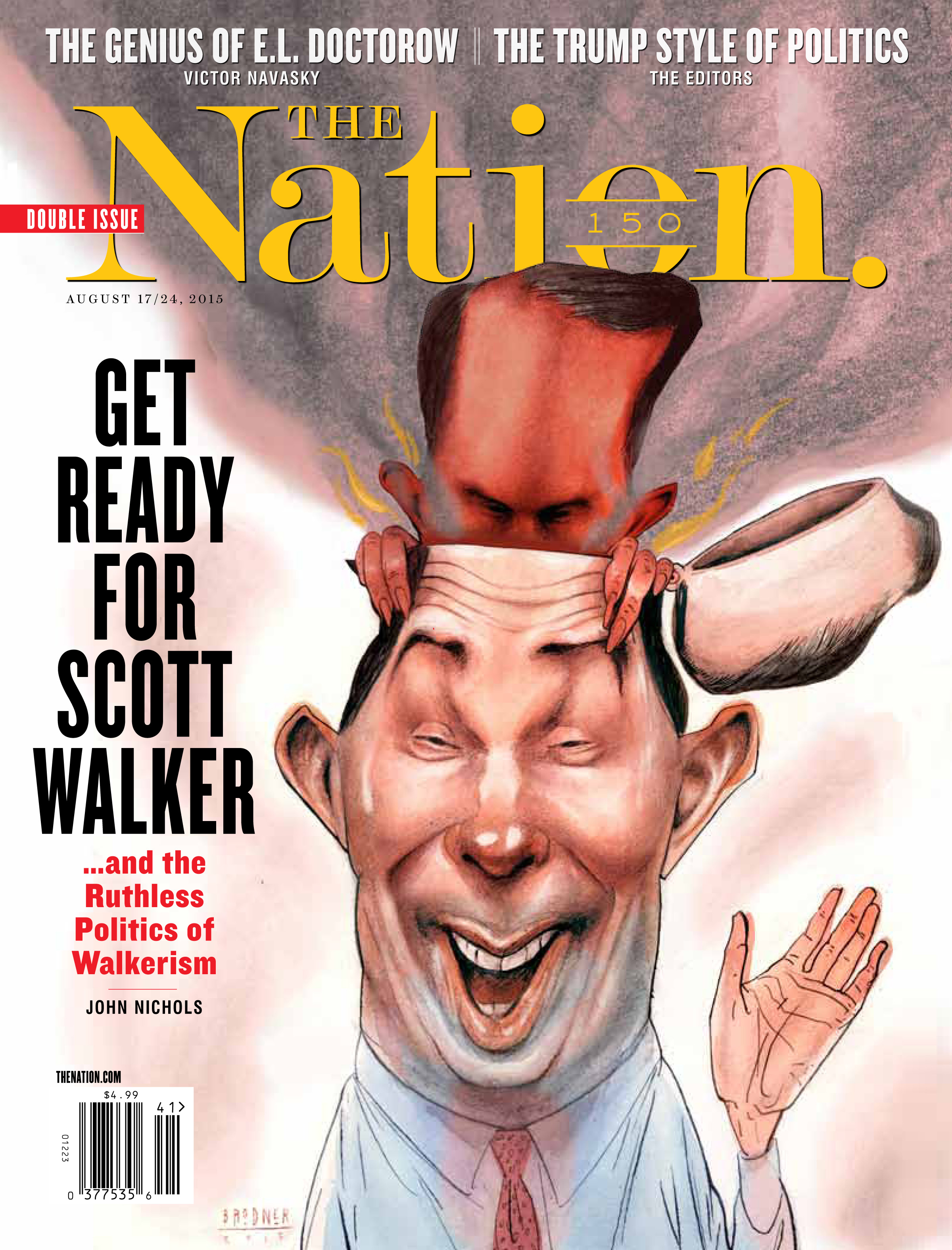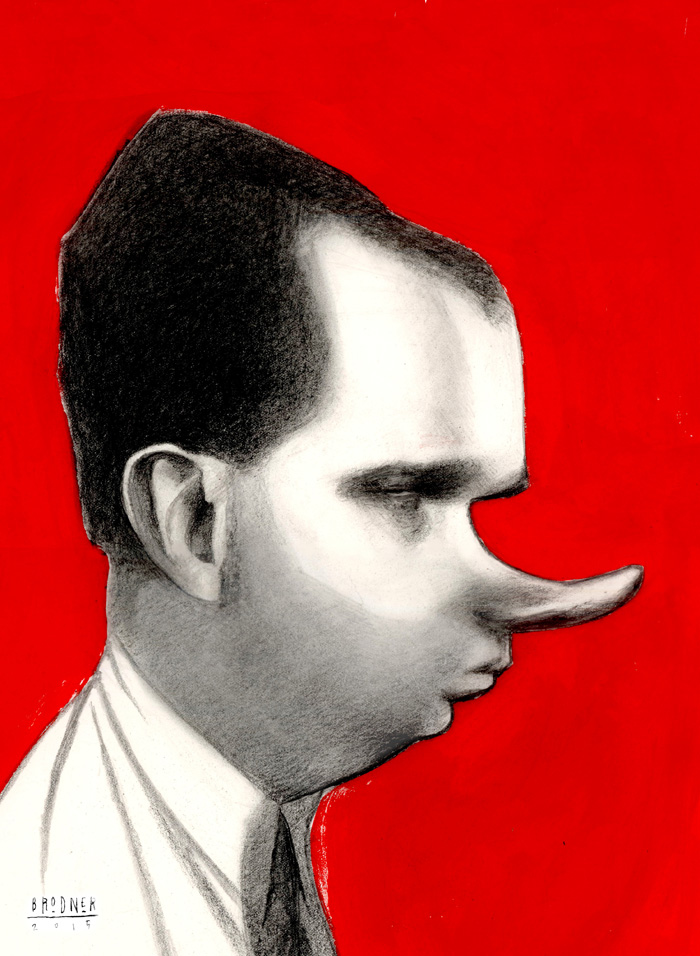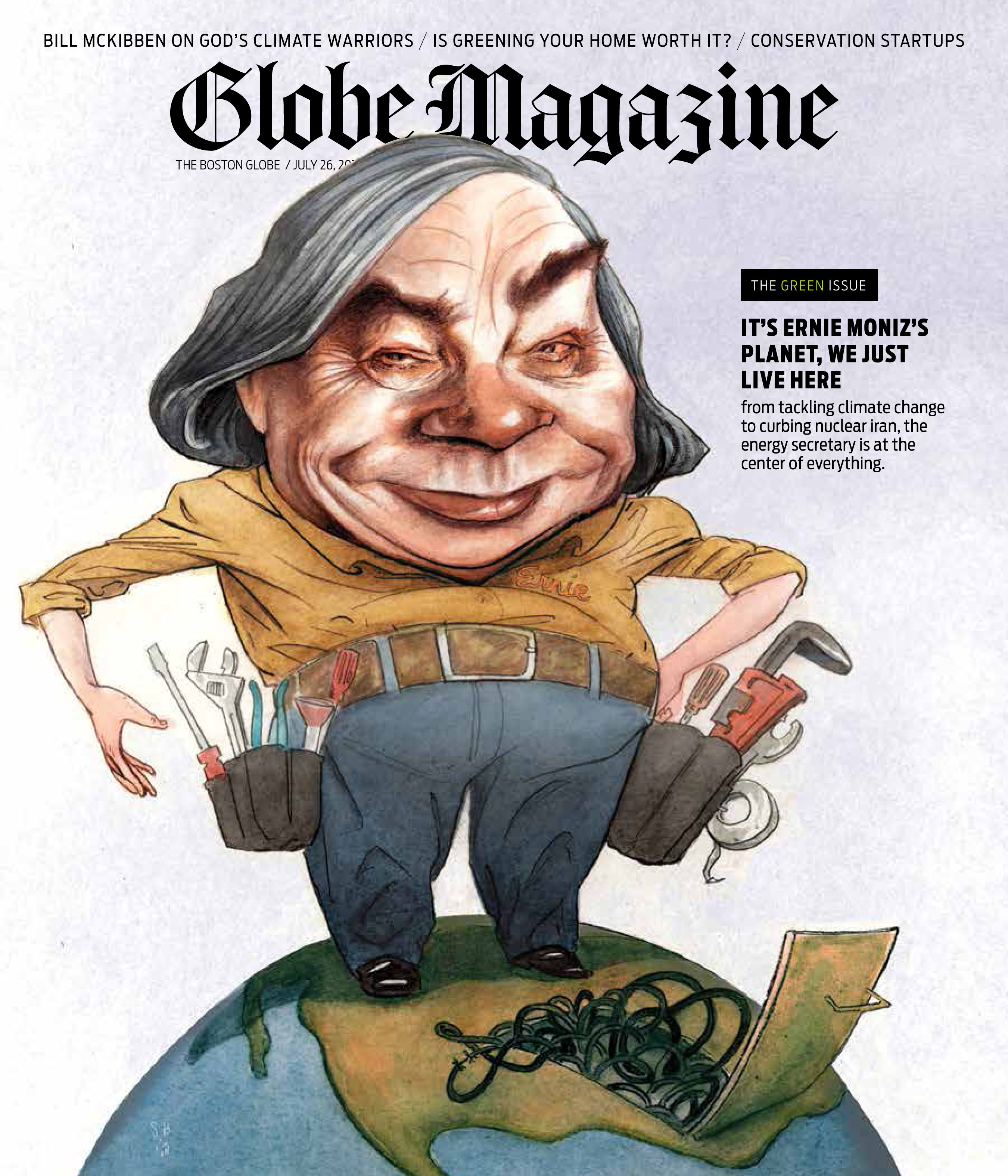 Ernie Moniz, the fixer. Climate and Iran. Thanks to Greg Klee, AD, The Boston Globe Magazine.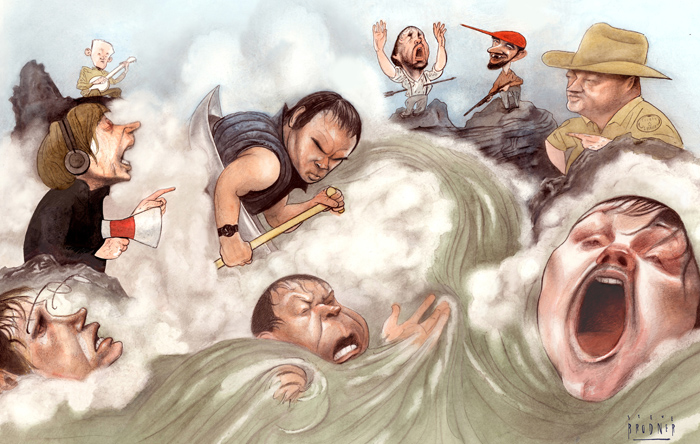 This month Garden and Gun and the kickin' AD Marshall McKinney and I cooked up a 45th anniversary tribute to Deliverance. Text went down the middle, surrounded by the cast of the film (including Banjo Boy). Author James Dickey in the upper right, as an officer in the film, proved, it turns out, as daunting a challenge as any backwoods buckaroos. STORY HERE.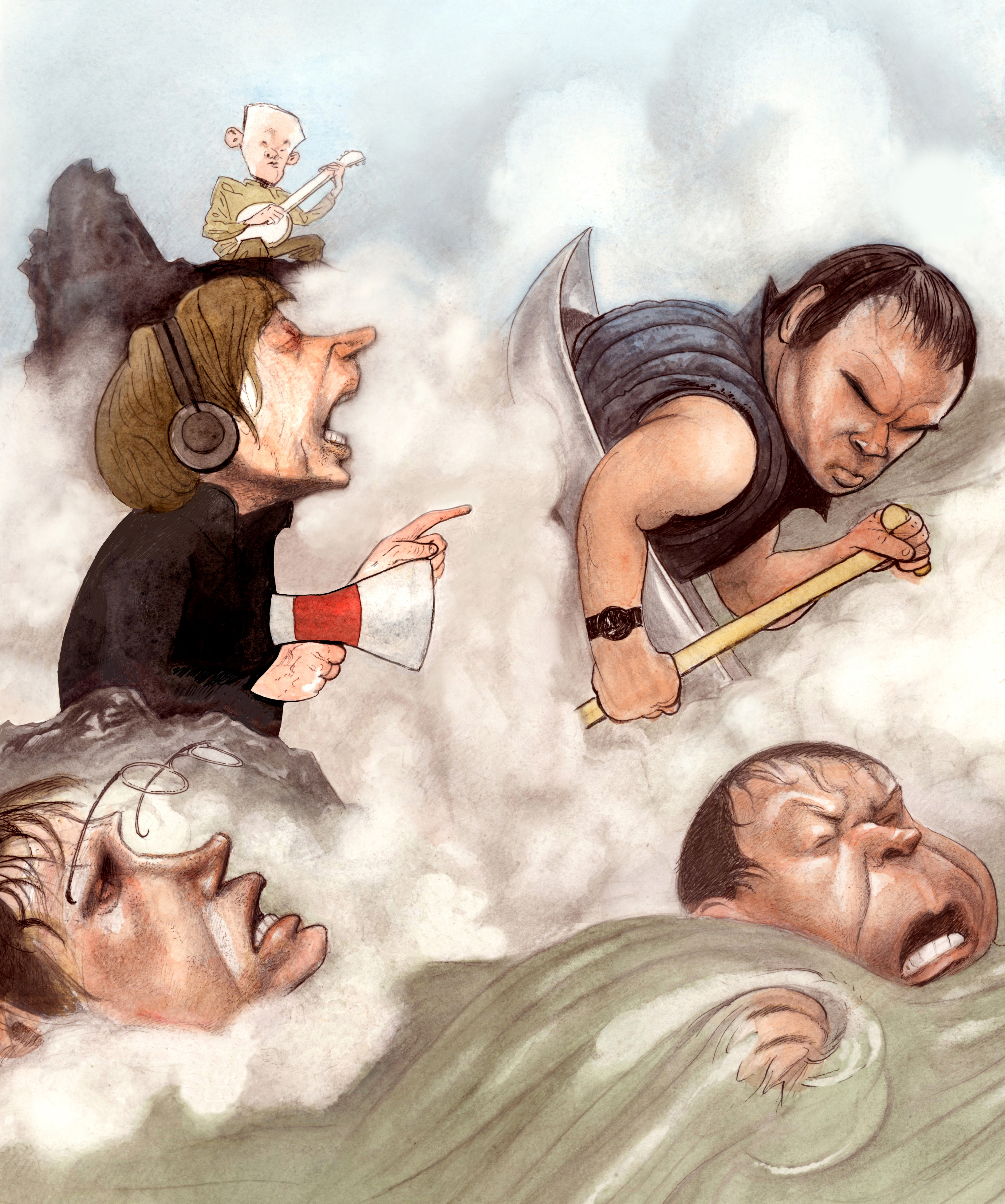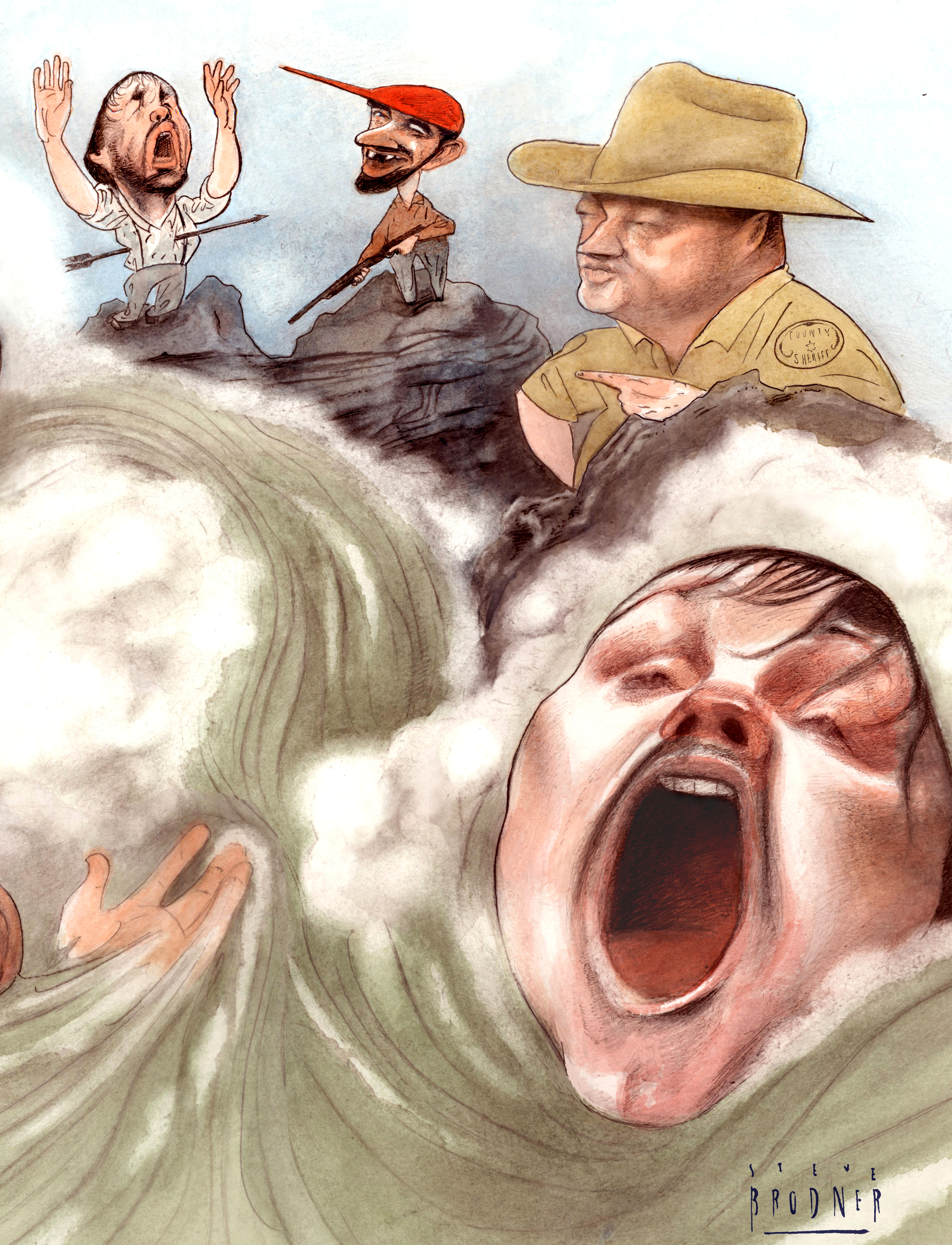 Here's your Summer Movie Guide. Just when you thought it was safe to go to the multiplex!  For The Boston Globe. Thanks to Greg Klee and Heather Hopp-Bruce.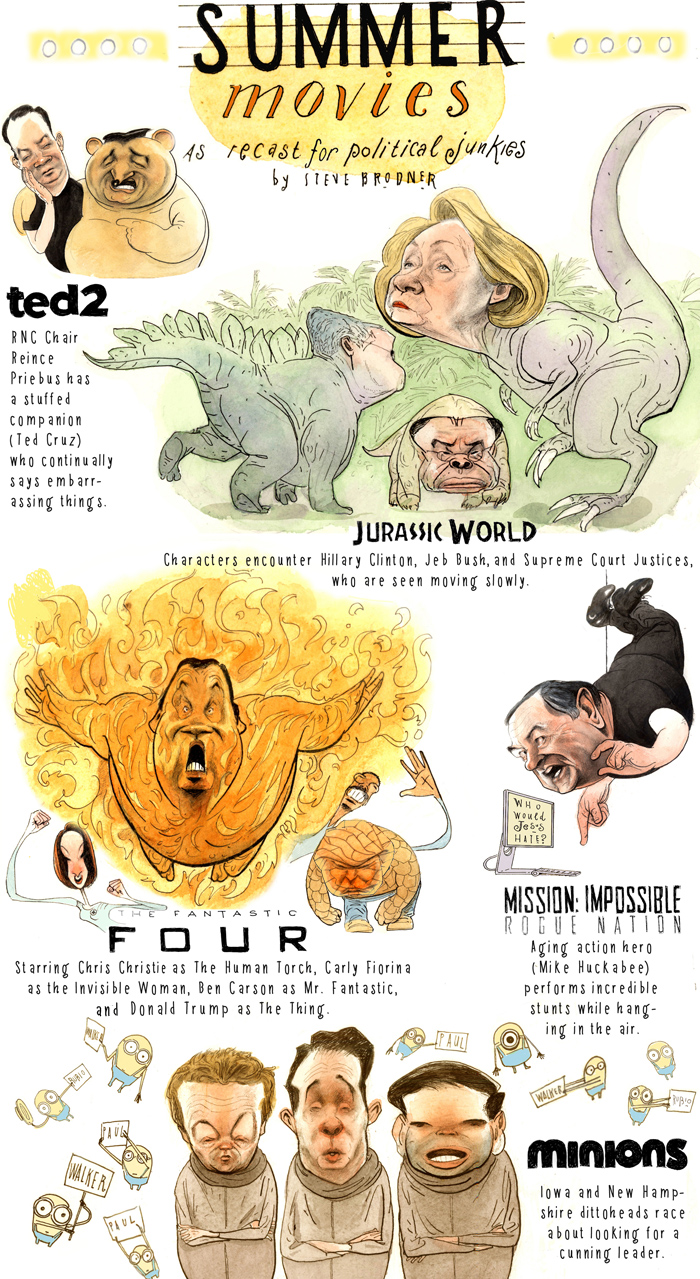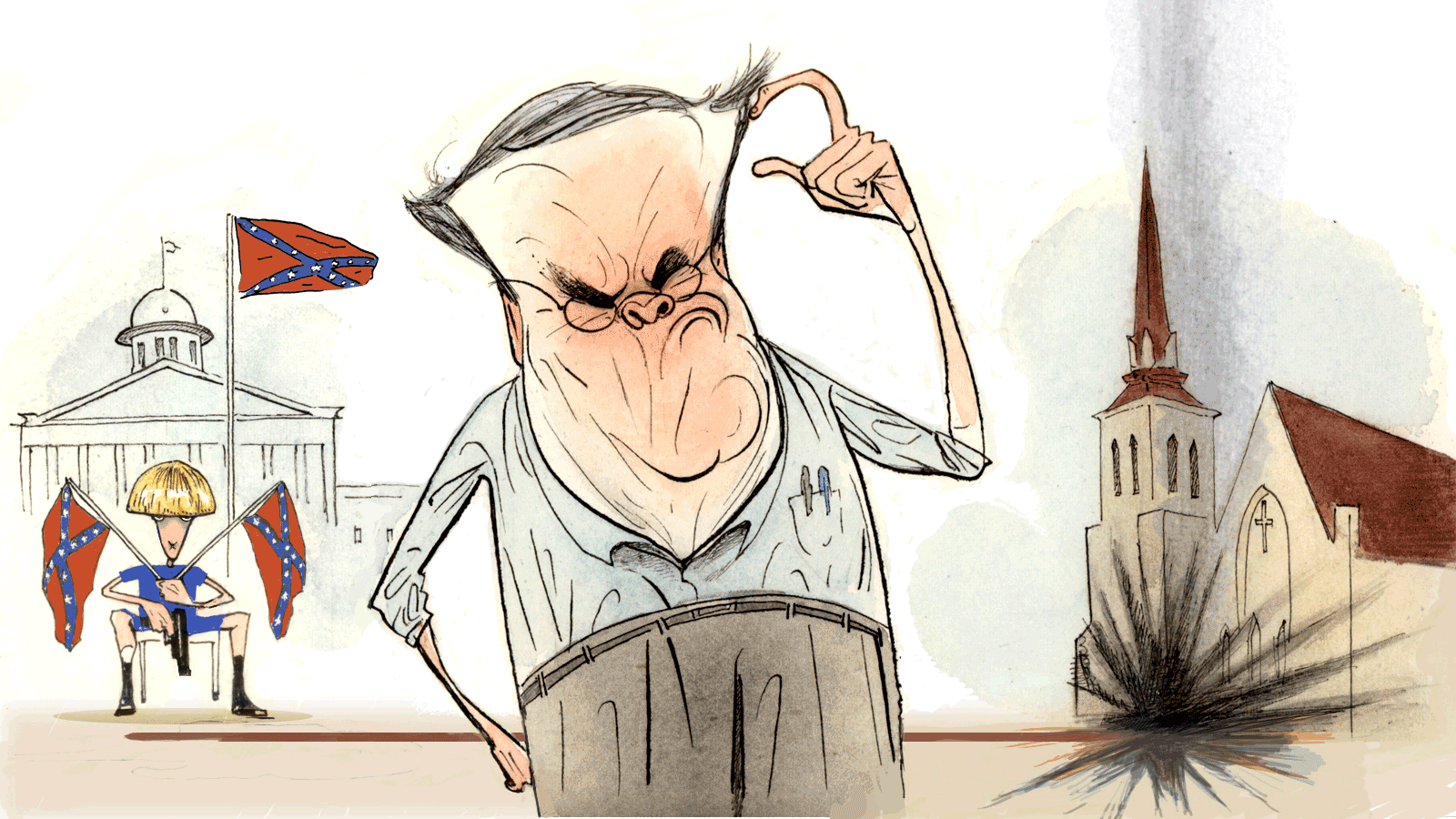 Here's GQ's Dumb Quote of the Month.
Jeb Bush: "I don't know what was on the mind or the heart of the man who committed these atrocious crimes," the sage of Sarasota said in reacting to a hate-crime of earthquake proportions. If the GOP race is a competition in cluelessness or willful denial, then Lumpy is clearly a frontrunner.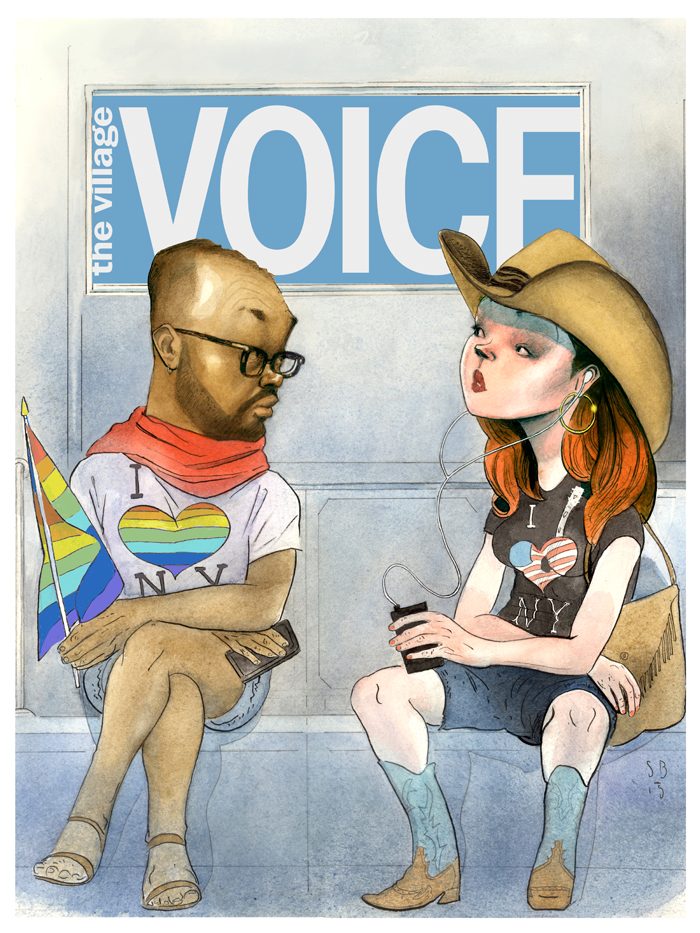 So happy this week to work with Tom Carlson of The Village Voice, coming up this cover for Pride Week and Farm Borough, which, it happens, occur on the same weekend. Here's our solution to the question of how to display them both.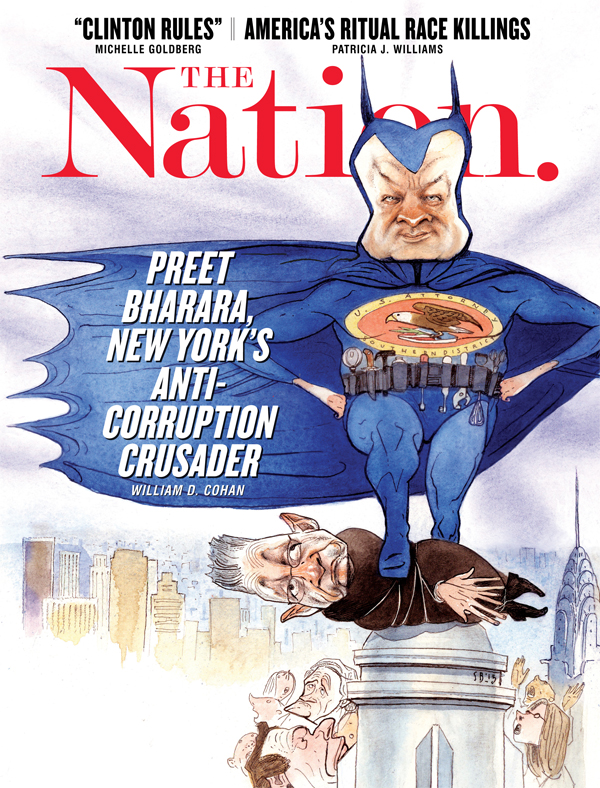 It was great fun this week to do a cover of Preet Bharara for The Nation. The US attorney for the Southern District of NY has successfully broken up the fabled "three men in the room" in Albany: Sheldon Silver, Andrew Cuomo and Dean Skelos, the three deal-makers who have replaced democracy in NY State. First he indicted Silver and tomorrow it looks like Skelos is about to fall as well. Interesting to be on top of the news and then get scooped the next day. Great thanks to Robert Best AD, Roane Carey ED, William D. Cohan, whose great profile of Preet this is based on, and our EIC Katrina vanden Heuvel.  The Dream Team.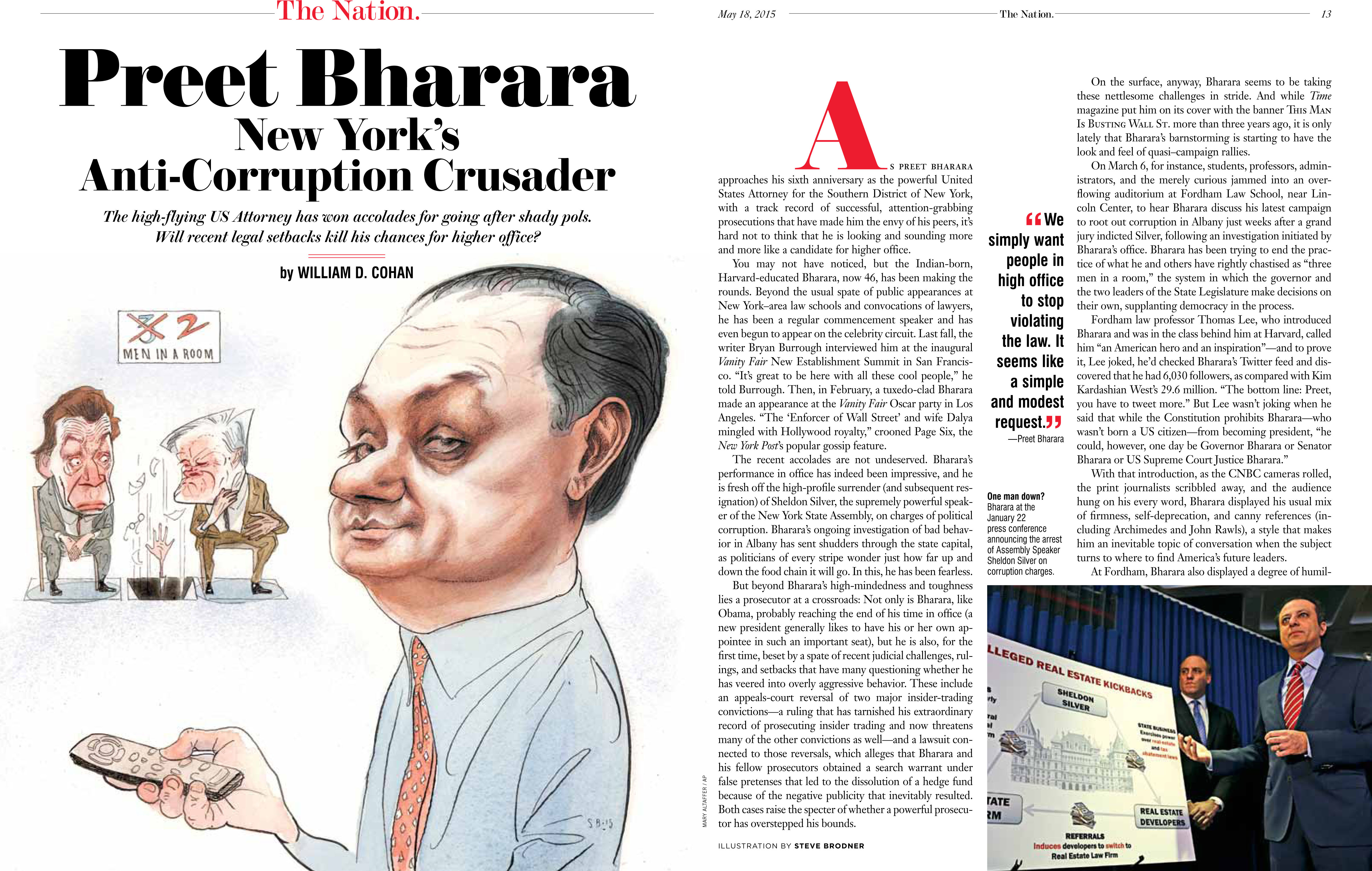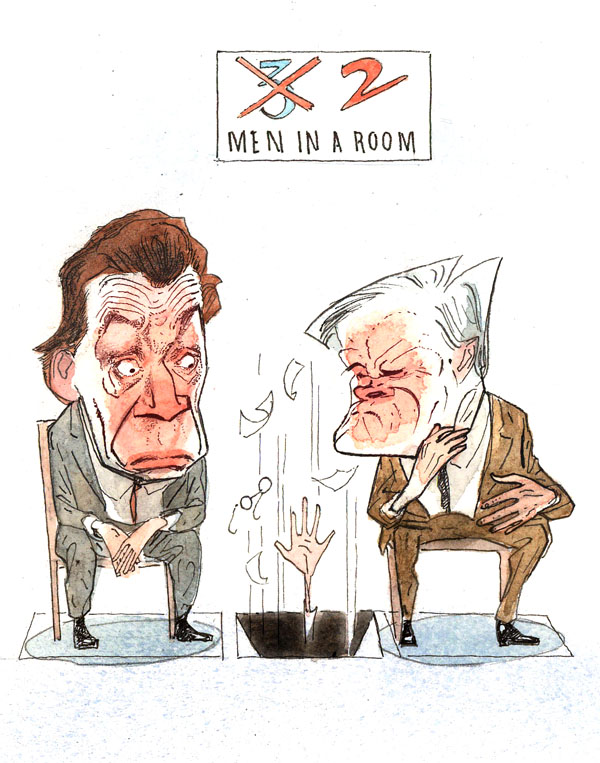 Here's the original image done for a recent Newsweek cover. Had great fun on this. Thanks to Robert Priest, Grace Lee, designers, Jim Impoco, our intrepid EIC.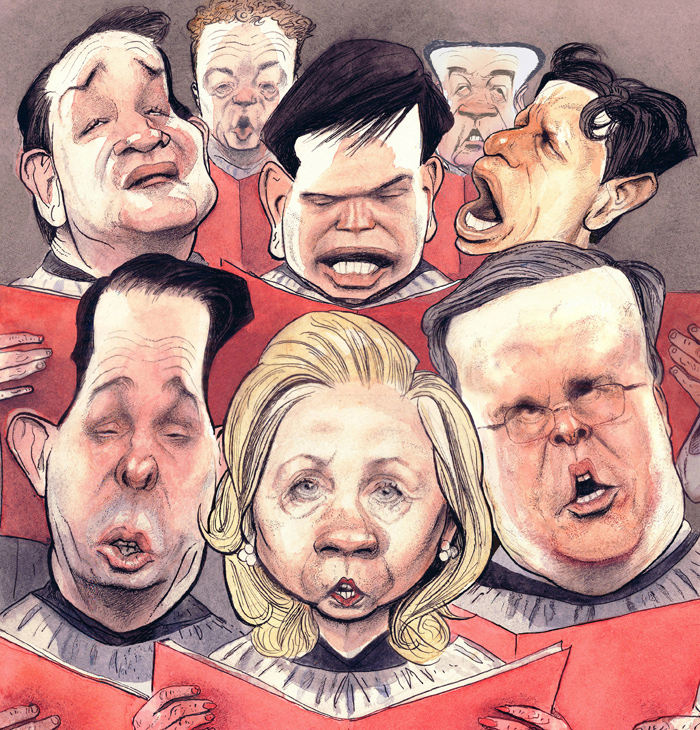 And for Hollywood Reporter's recent New York issue: Michael's Restaurant and its frequent frequenters: Barry Diller, Bill Clinton, Katie Couric, Tom Brokaw, Hoda Kotb, Bonnie Hammer, Plus Michael McCarty. Thanks Christine Park and Peter Cury!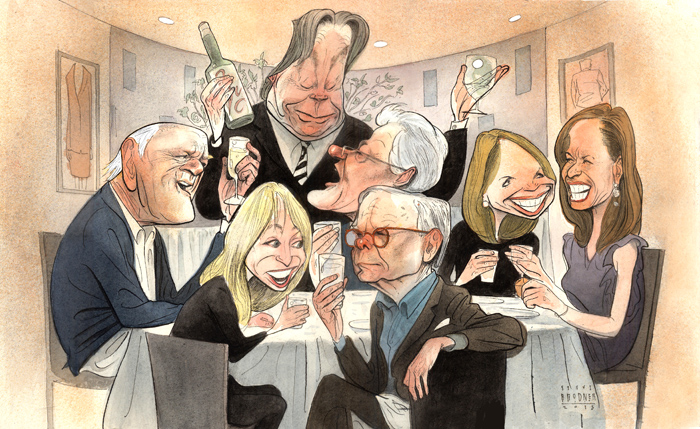 Recent Dumb Quotes for GQ. Thanks Martin Salazar, Fred Woodward!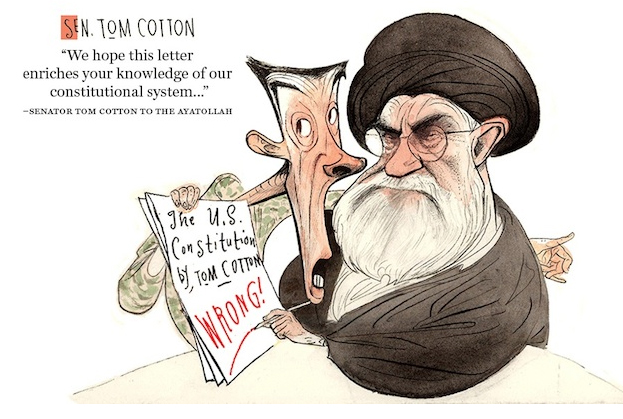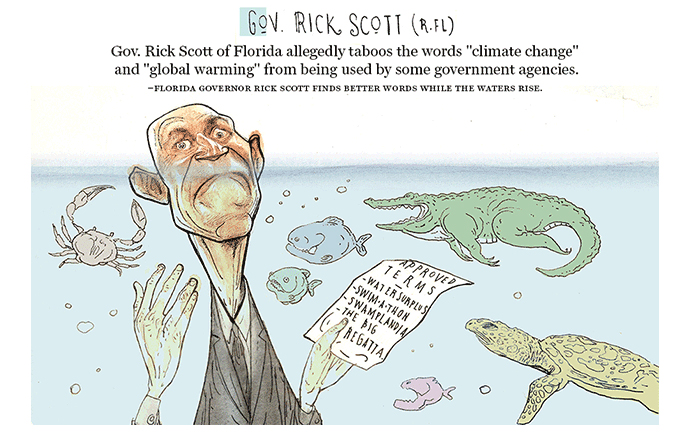 The Nation celebrates its 150 anniversary this month with a splashy 200+ page special issue. I am very honored to have been asked to participate. I chose to highlight the six most influential editors going back to right after the Civil War. Next to each is a scrambled doodle concoction of pertinent events. The Nation is essential reading for me each week and has been for over 20 years. American history is a recurring dream (or nightmare) with many of the same events getting up in new clothes before coming at us again. Greed, poverty, racism, war, reform.  We see them anew each generation. Seeing how all the generations of activists have dealt with them makes us stronger for the current and battles to come. Especially given current events, The Nation has never been more urgently needed than right now.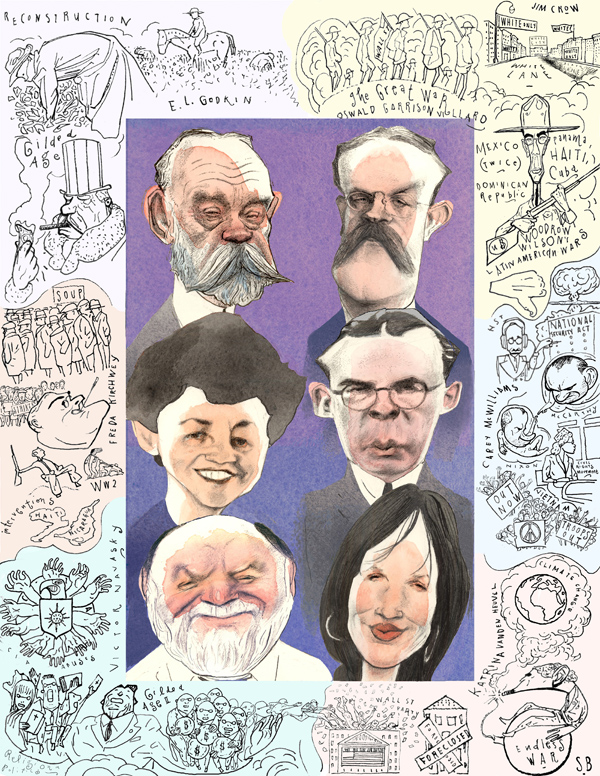 The page as it runs in the issue.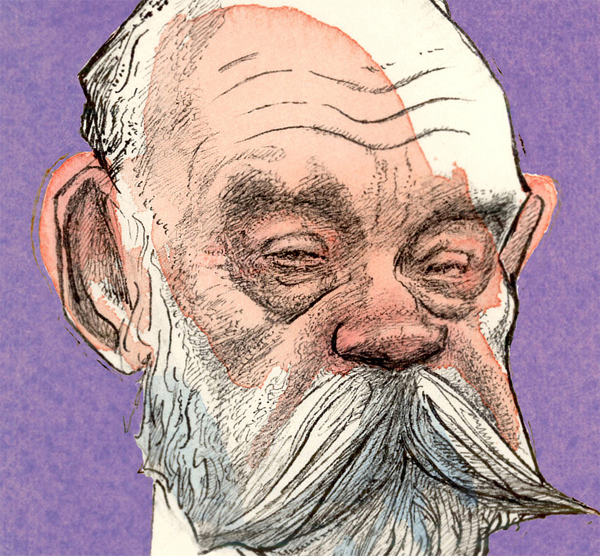 E.L. Godkin, fervent abolitionist. But then the original Mr. 1%.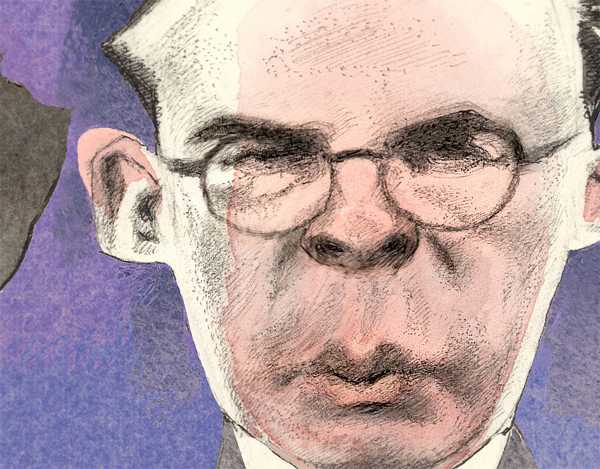 Carey McWilliams, editor during the post-WWII years. A great campaigner against McCarthyism, for civil rights and peace.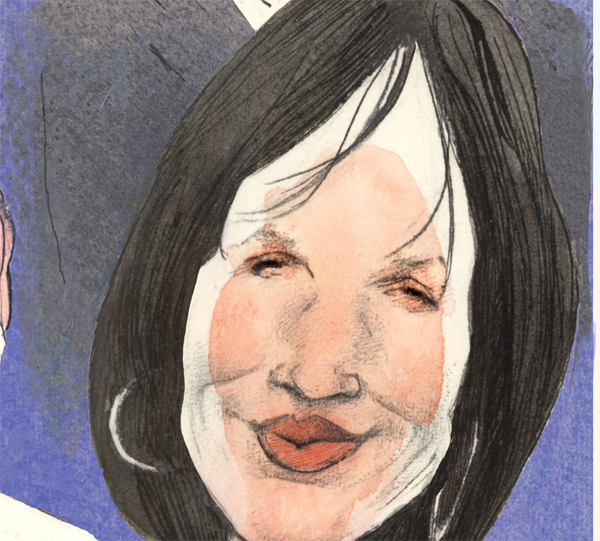 Katrina vanden Heuvel, current editor and a great one; fighting for all the right causes. Warning of a new cold war, as well as precious rights being stripped away at home. Expanding the Nation online and onto devoices everywhere. And a great supporter of illustration by the way. Great thanks to her, Roane Carey, D.D, Guttenplan, and Robert Best, our Creative Director who made it all work.
The doodle-goria was very inspired by the work of John Hendrix who puts more great ideas in a small space than anyone ever.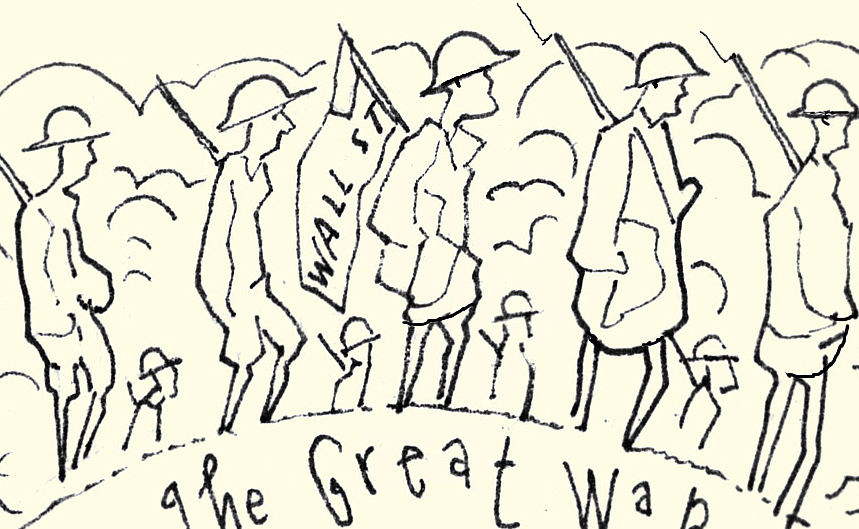 The real flag they should have carried into WWI.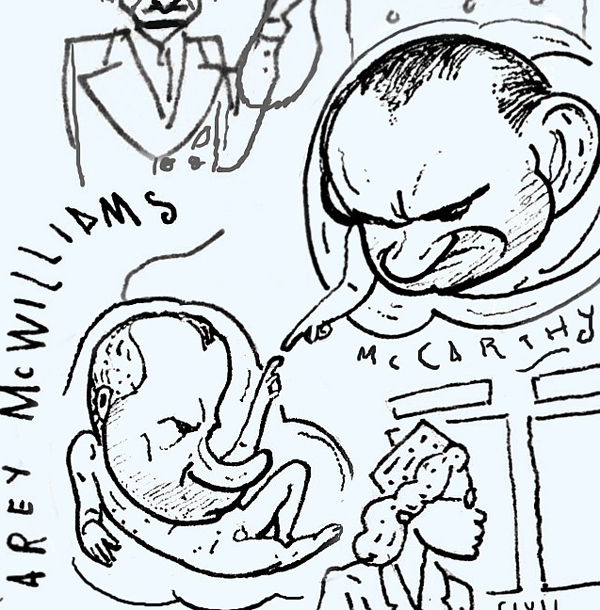 Nixon and his creator.

The New Gilded Age. Already in progress.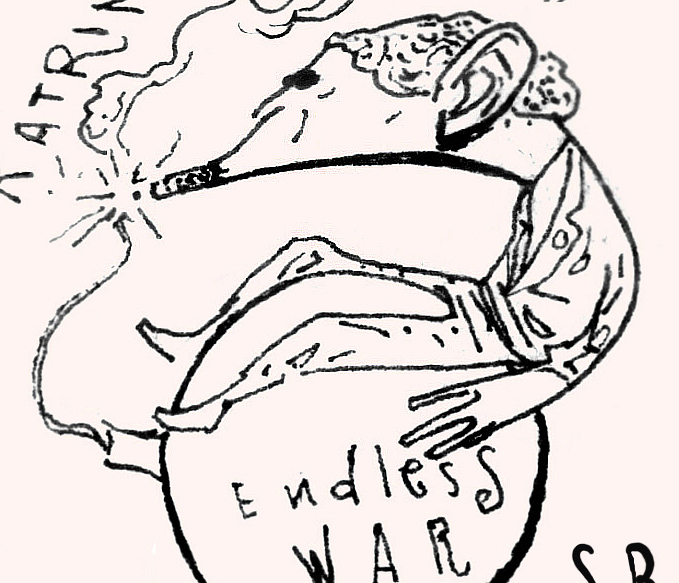 The Daily Wars . . . likewise.
On the cover of last Sunday's Times Style section:
The View. Thanks to Rodrigo Honeywell, AD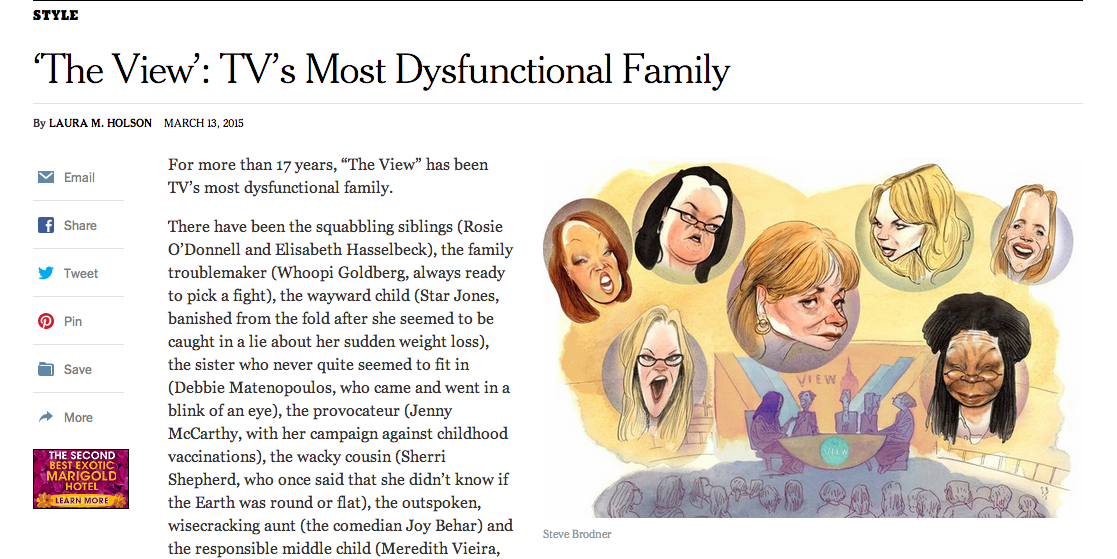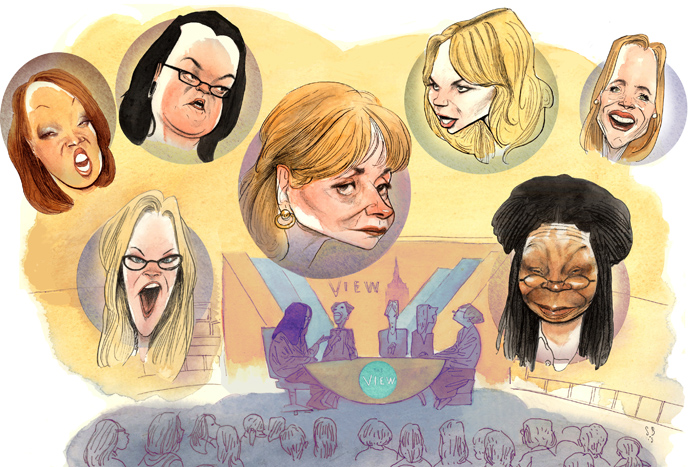 Hellzapoppin' this week. This piece for The New Republic's meditation on the Pope's new Climate action. Thanks to designer Andrew Horton. Story here.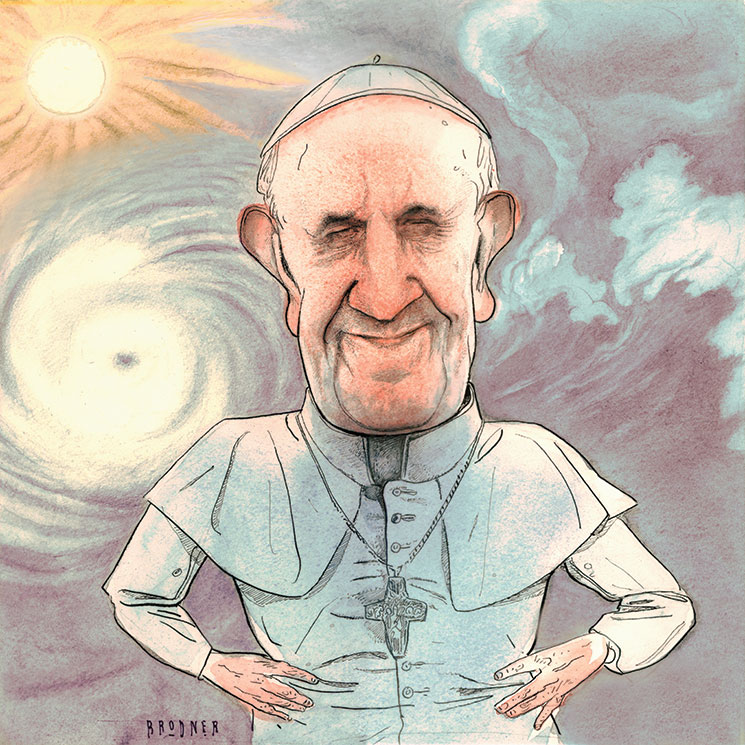 For Janet Michaud at Politico: the day Koch and Soros came together on prison reform. Believe it or else. Story here.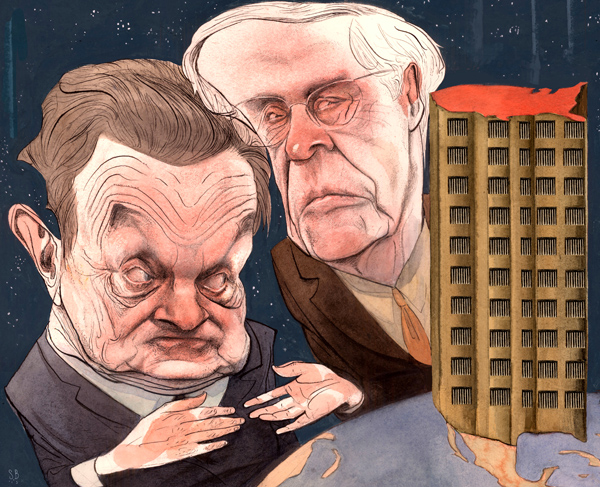 My GQ Dumbest Quotes of the Month are in and they ain't pretty. Intrepid designer Martin Salazar brings them to life here: GQ.
Thanks to him, the legendary Fred Woodward and the quotable celebs for this month's journey.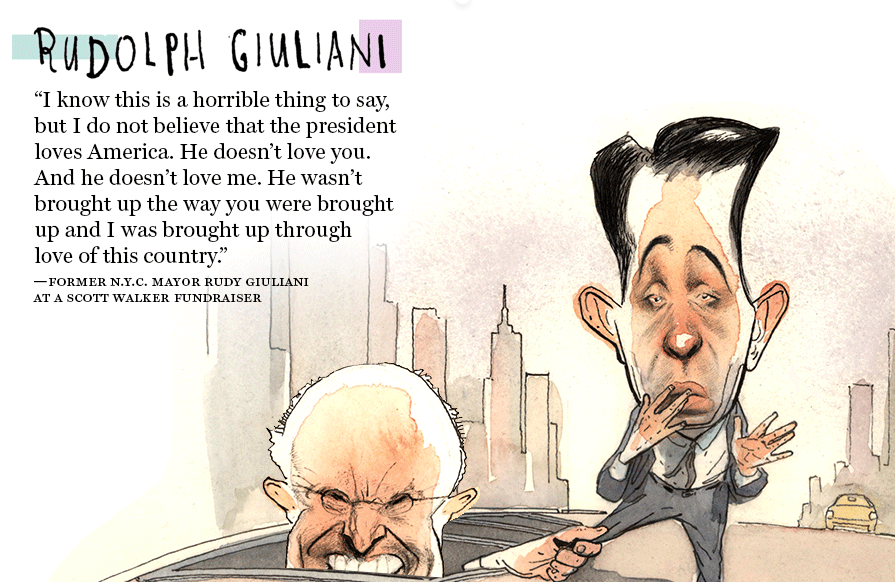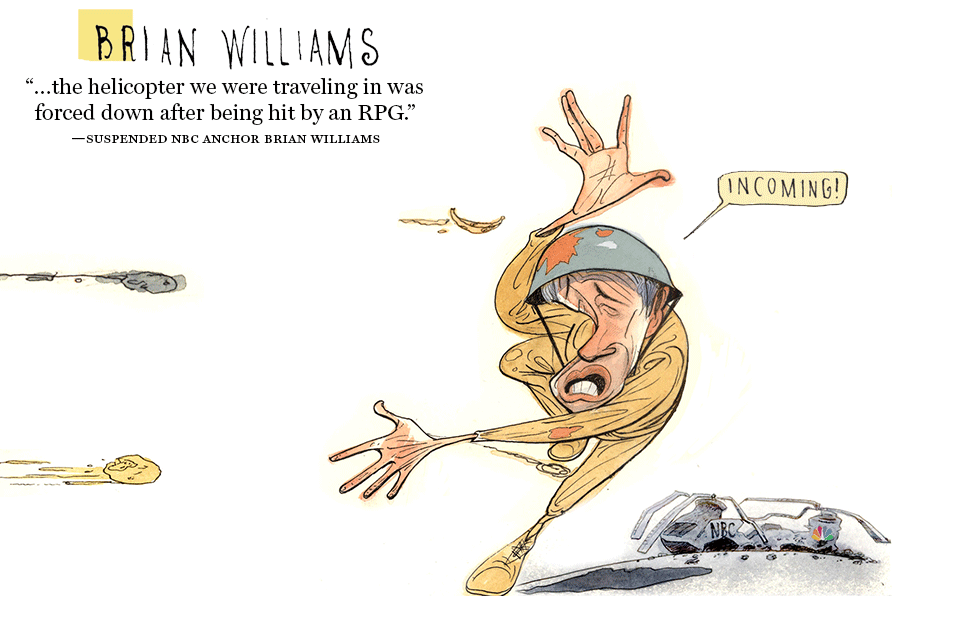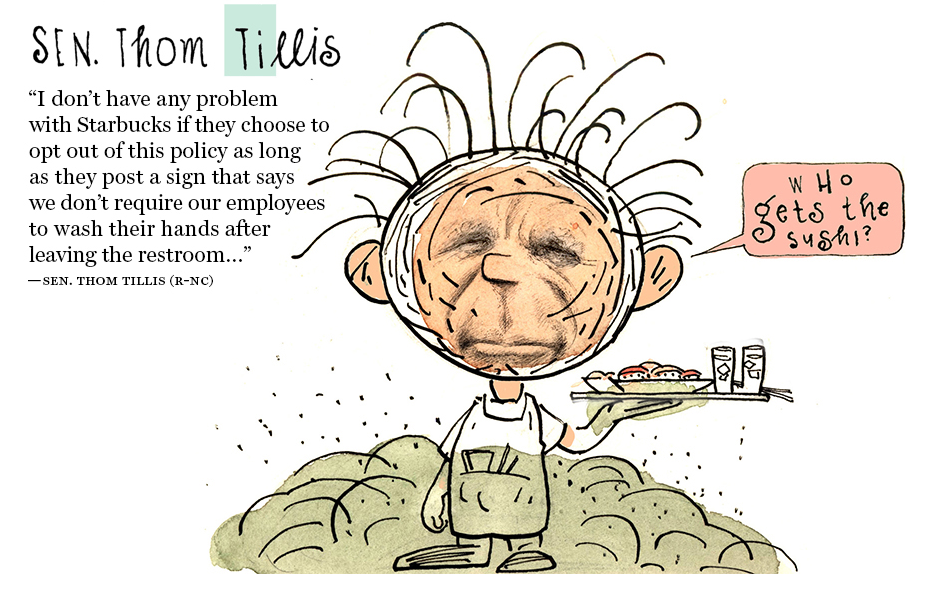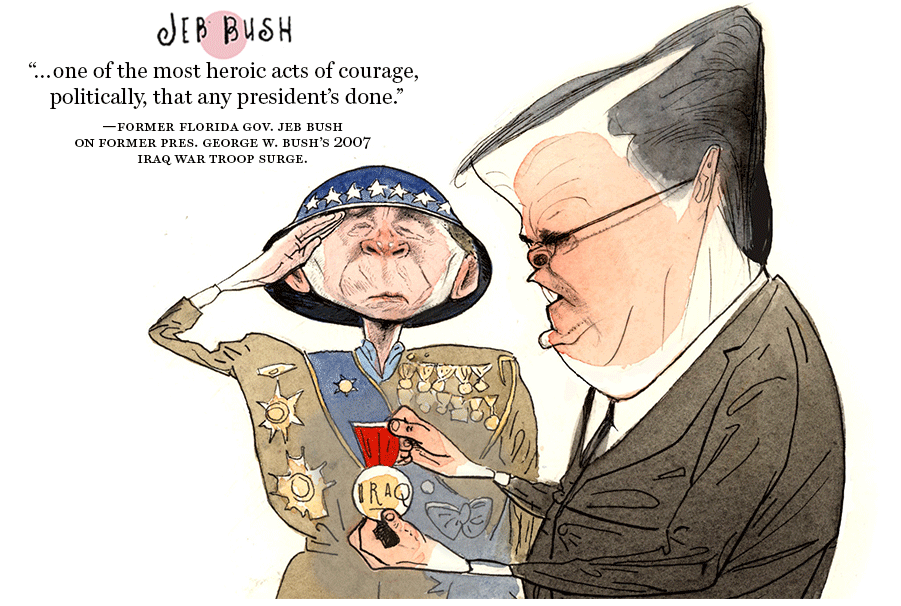 Finally some good news for the GOP Congress.
They're in the Communication Arts Annual! Congrats guys! Also thanks to Robert Best, Katrina vanden Heuvel, my intrepid editors at The Nation!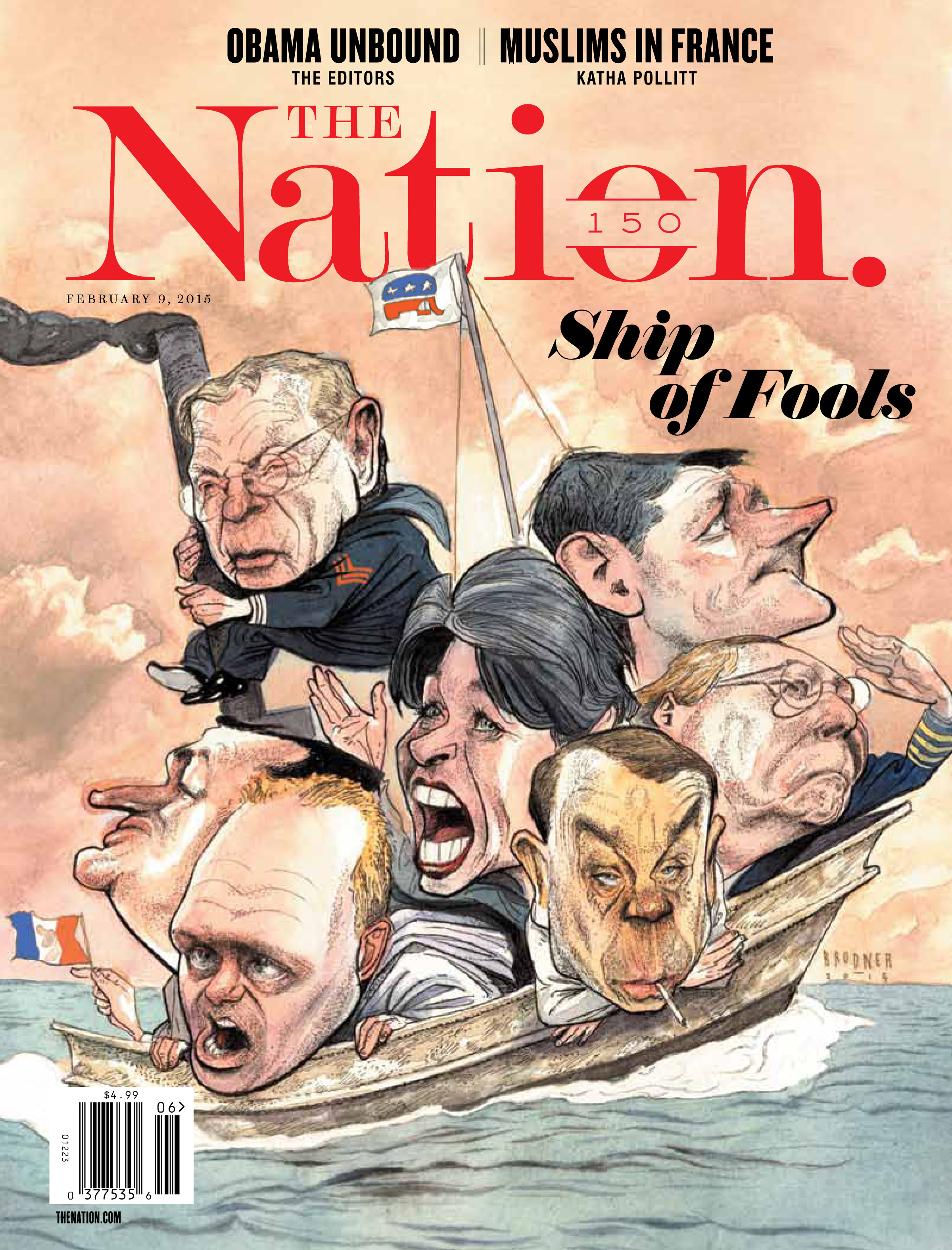 This week it was my great honor to be profiled in the NY Observer by Cynthia Cotts on the ideas of some the leading professors in NY! Grateful to her and the NY Observer.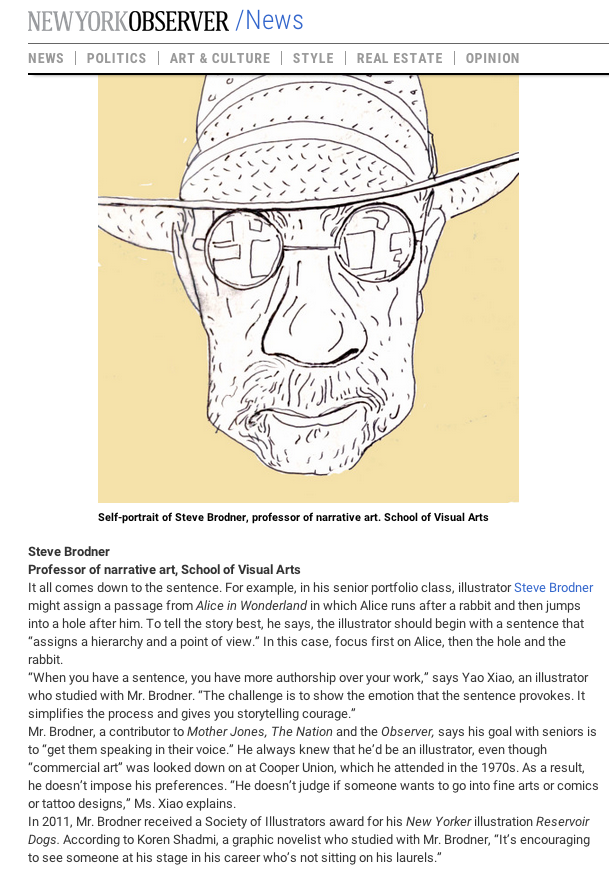 I was asked this week by The New York Observer to contribute something to a section on the Paris atrocity. So much as been said. I wish the families and in fact all of us the strength to get through this time. Our lives and democracy are under siege. I knew Tignous, judged a Dogan contest with him in Istanbul. A more gentle, funny, light-hearted soul you would never meet. This is a world gone dangerously mad in 3D. Rather than draw another brave artist (can't get enough of those) I wanted to discuss the nexus between the terrorists and the far right in Europe. There is a neo-Nazi group in many countries waiting for such events to seize power as the Bushcheneys did here. Fascism surrounds. Know your enemy, I would like to say, it isn't Islam. It is Fascim and hate.
Peace.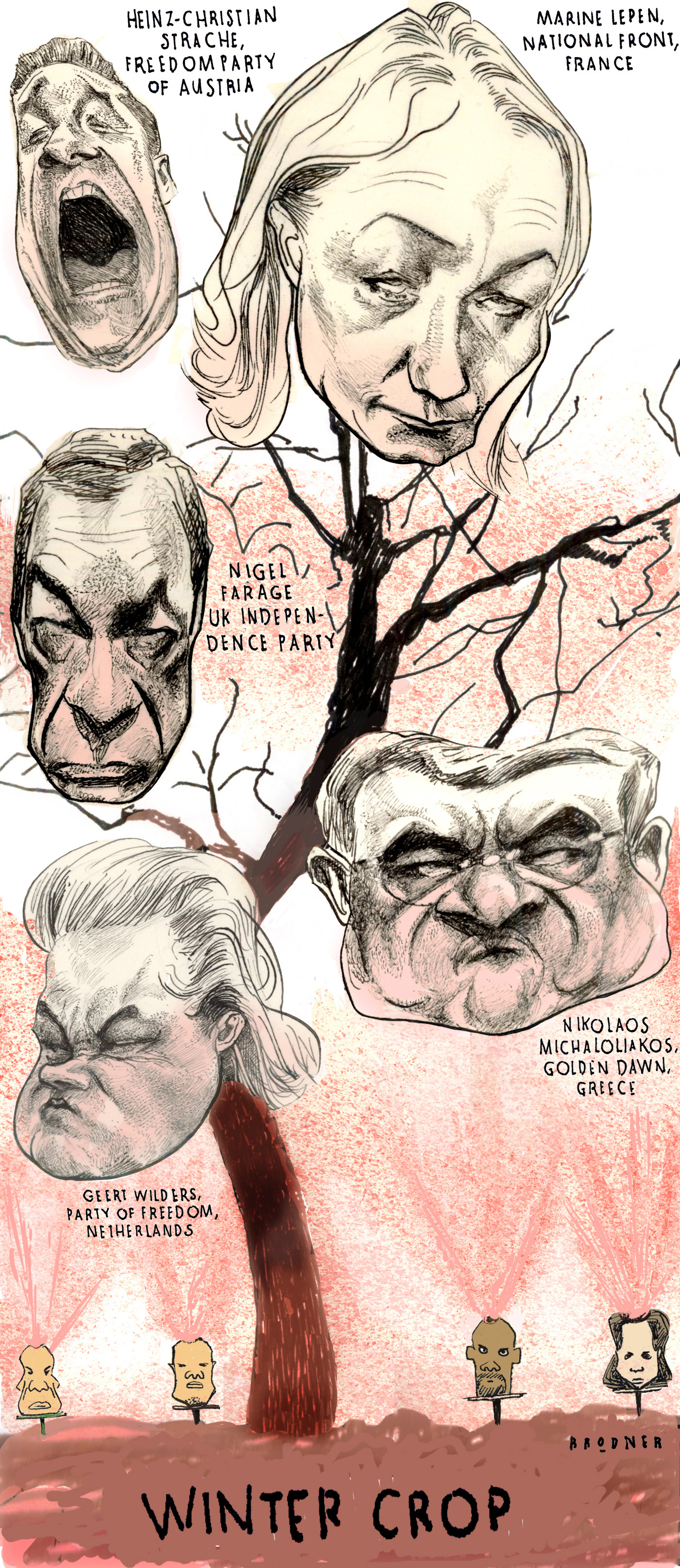 This January marks the inauguration of Jerry Brown, California's youngest (since 1863) and oldest governor. Here's my telling of his story.Thanks to Susan Brenneman and Wes Bausmith of the LA Times.
Here, at last, are The Dumbest Quotes of 2014, for GQ. See the whole gang at: http://www.gq.com/trend-list/dumbest-quotes-2014/1Researched, written, illustrated by meself, with great design (and animation help) help from Fred Woodward, Martin Salazar, and fact checking from Sarah Ball. It was a very good year . . . for stupid.
The Scott Brown / Jeanne Shaheen senate race may all come down to the question: who is most "New Hampshire"?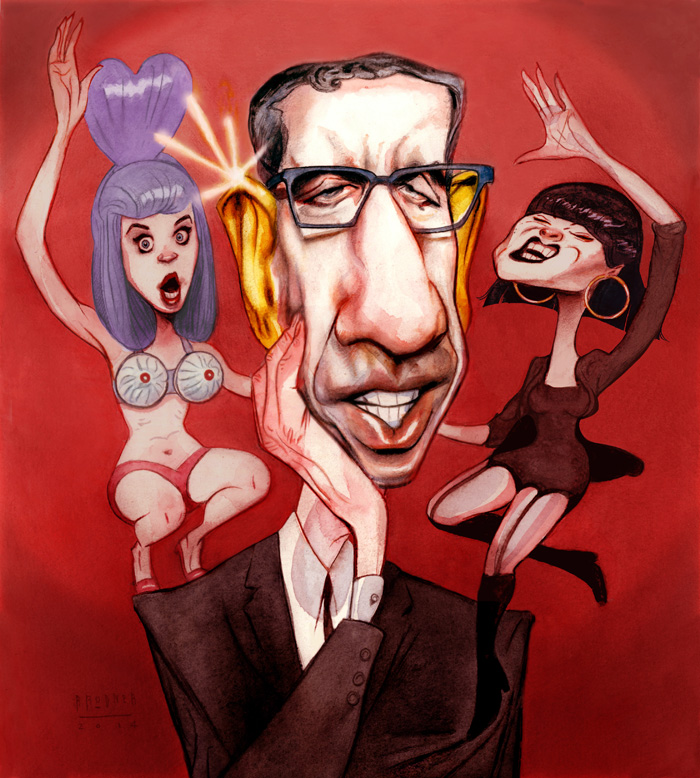 Great thanks this week to Lauren Draper and the gang at The NY Observer for this fun cover of music wizard Jason Flom. Special thanks to Katy Perry and Jessie J!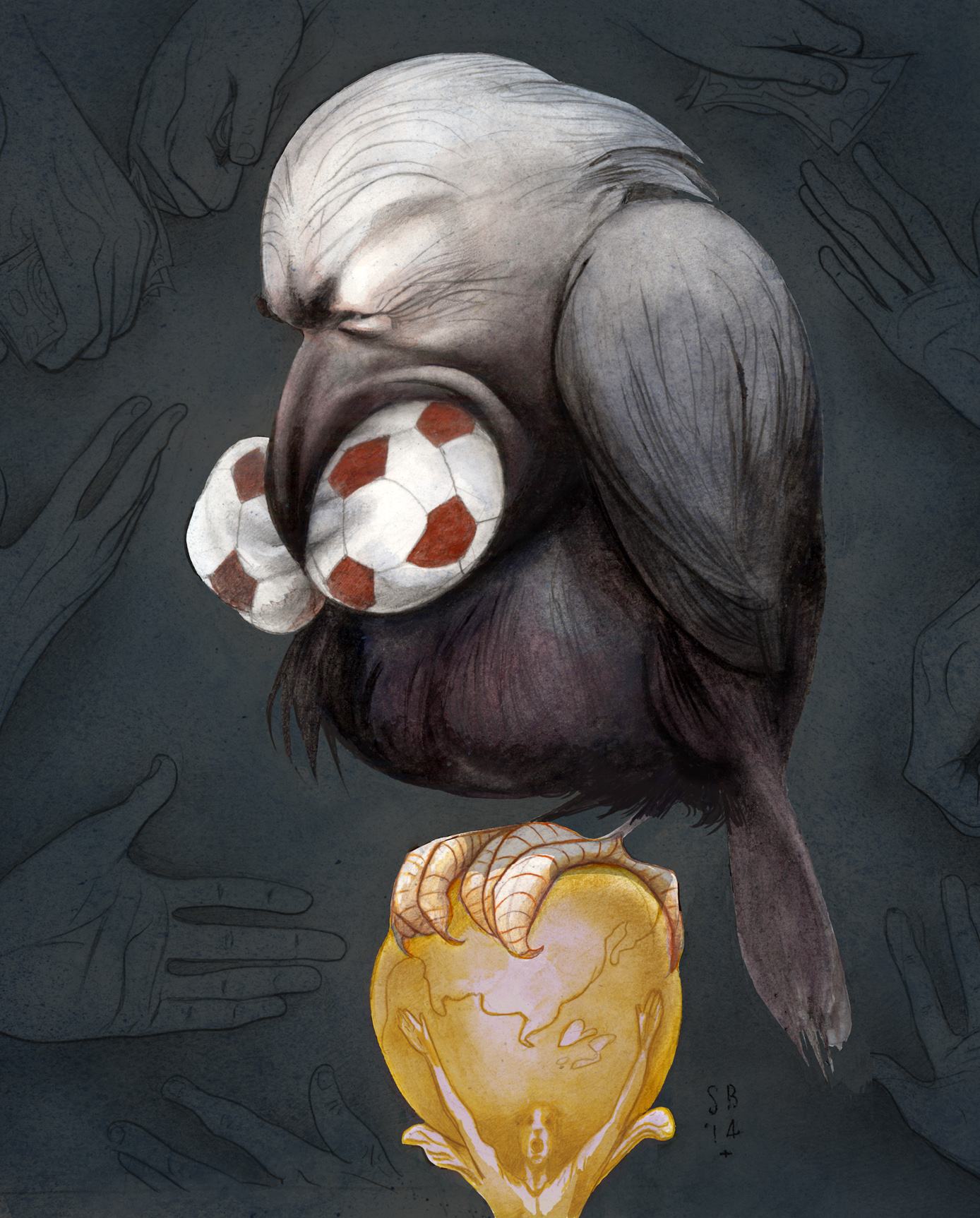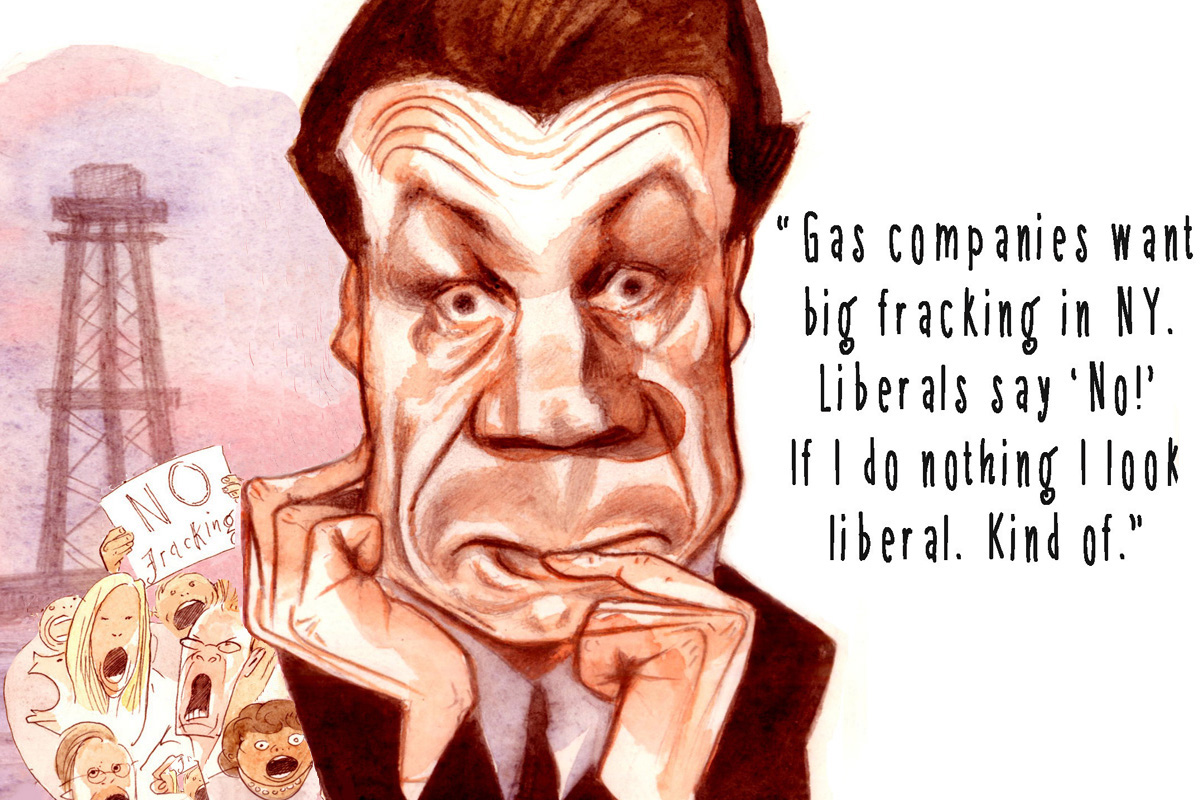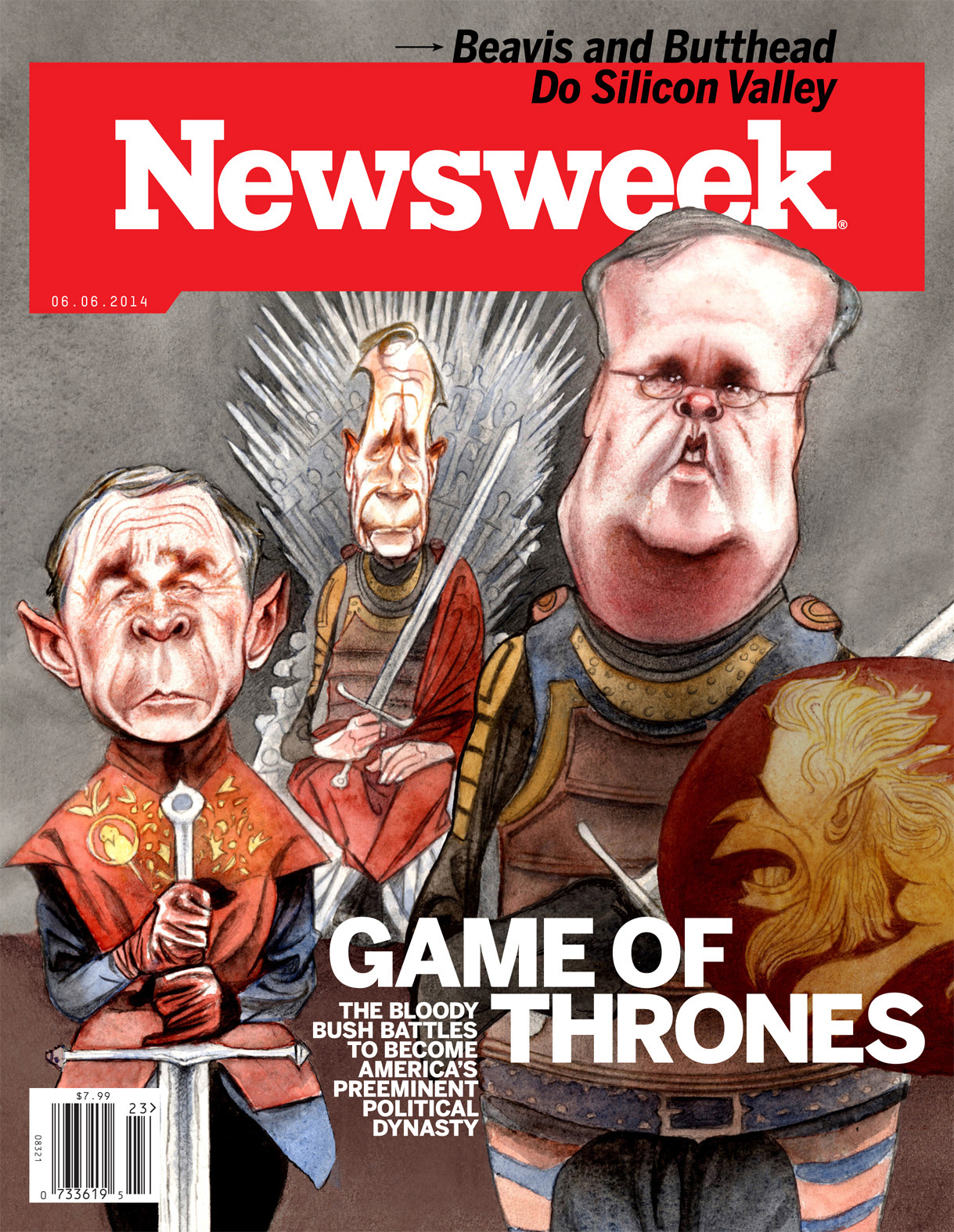 Newsweek, back and beautiful.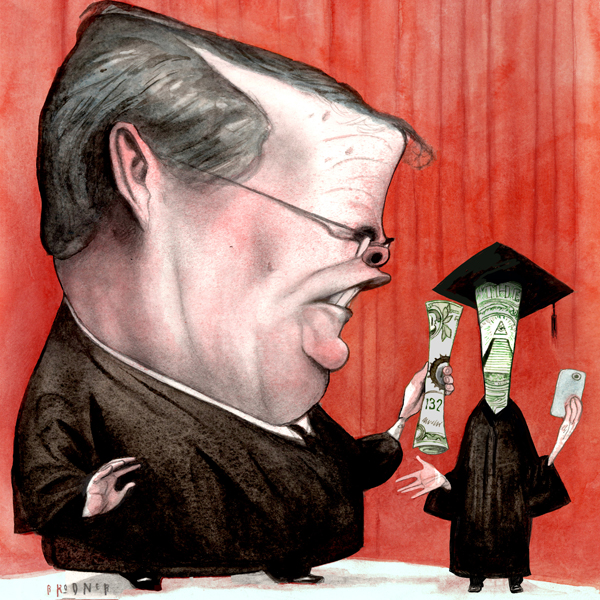 Jeb for The Baffler.